Product Description
Bosch Alternator for Citroen,Peugeot,CA1052IR,0123310011,0123310013

Valeo Alternator 90A For CITROEN XSARA 436654

USED ON
1 Citroen Berlingo 1.8 AC PS 1761ccm LFX (XU7JB) 97-02
2 Citroen Evasion 2.0 16V 1998ccm XU10J4R 98-00
3 Citroen Evasion 2.0 Turbo 1998ccm XU10J2TE 97-02
4 Citroen Xantia 1.8i 1761ccm XU7JB 97-01
5 Citroen Xantia 1.8i 16V 1761ccm XU7.. 95-01
6 Citroen Xantia 2.0i 1998ccm XU10J2 94-01
7 Citroen Xantia 2.0i 16V 1998ccm XU10J4R 94-01
8 Citroen Xantia 2.0i Turbo AC 1998ccm XU10.. 95-01
9 Citroen XM 2.0i 16V 1998ccm XU10J4R 95-00
10 Citroen XM 2.0i Turbo 1998ccm XU10.. 95-00
11 Citroen Xsara 1.8i 1761ccm XUJ7B 97-00
12 Citroen Xsara 1.8i 16V AC 1761ccm XU7JP4 97-00
13 Citroen Xsara 2.0i 16V 1998ccm XU10J4 97-00
14 Citroen ZX 1.8i 16V 1761ccm XU7JP 96-97
15 Citroen ZX 2.0i 16V 1998ccm XU10J4.. 94-97
16 Fiat Ulysse 2.0 i.e. Turbo 1998ccm XU10.. 97-00
17 Fiat Ulysse 2.0 i.e. Turbo 1998ccm XU10.. 97-00
18 Lancia Z 2.0 i.e. Turbo AC 1998ccm XU10.. 97-99
19 Peugeot 306 1.8i 16V 1762ccm XU7JP4 97-01
20 Peugeot 306 2.0i 1998ccm XU10J2 96-01
21 Peugeot 306 2.0i 16V 1988ccm XU10J4.. 96-01
22 Peugeot 406 1.8i 1761ccm XU7JB 97-03
23 Peugeot 406 1.8i 16V 1761ccm XU7JP4 95-04
24 Peugeot 406 1.8i 16V AC 1761ccm XU7JP4 95-04
25 Peugeot 406 2.0i 16V 1998ccm XU10 95-04
26 Peugeot 406 2.0i 16V AC 1998ccm XU10 95-04
27 Peugeot 605 2.0i 16V AC 1998ccm XU10J4R 95-99
28 Peugeot 806 2.0i 1998ccm XU10J2 97-02
29 Peugeot 806 2.0i 16V 1998ccm XU10J4R 98-00
30 Peugeot 806 2.0i Turbo 1998ccm XU10J2TE 97-00
SPECIFICATION:
ZOWO NO.



ZWVA016-AL


TYPE




VALEO ALTERNATOR ASSEMBLY




WAI NO.






OEM NO.



BOSCH 0123310011
BOSCH 0123310013
BOSCH 0986039780
BOSCH 0986040220
BOSCH 0986040221
BOSCH 0986041401
BOSCH 3978
BOSCH 4022
BOSCH 4140
CITROEN 9617861280
CITROEN 9617861380
CITROEN 9618961380
CITROEN 9618961480
CITROEN 9618961580
CITROEN 9618961680
CITROEN 9631318280
LUCAS LRB00331
LUCAS LRB00332
LUCAS LRB00333
LUCAS LRB331
LUCAS LRB332
LUCAS LRB333
MITSUBISHI A002TA1991
MITSUBISHI A002TA1991D
MITSUBISHI A002TA1991F
MITSUBISHI A002TA1991G
MITSUBISHI A002TA2091D
MITSUBISHI A002TA2091F
MITSUBISHI A2TA1991
MITSUBISHI A2TA1991D
MITSUBISHI A2TA1991F
MITSUBISHI A2TA1991G
MITSUBISHI A2TA2091D
MITSUBISHI A2TA2091F
VALEO 2541784B
VALEO 2541785B
VALEO 2542256A
VALEO 2542356A
VALEO 436642
VALEO 436654
VALEO A13VI101
VALEO A13VI102
VALEO A13VI233
VALEO A13VI263


DESCRIPTION



80Amp/12 Volt, CW, IR/IF,6-Groove Pulley


APPLICATION



CITROËN,FIAT,LANCIA,PEUGEOT,SEAT


WARRANTY




12 MONTHS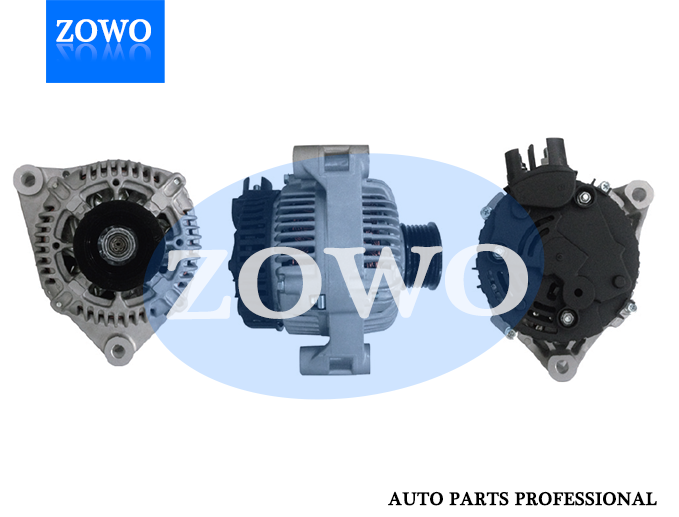 Car Alternator are an essential part of the modern car`s electrical system. Visit our zowoparts website. We deal with all series Car Alternator, including: Bosch Alternator, Denso Alternator , Delco Alternator ,Valeo Alternator,Hyundai Alternator, Lucas Alternator ,Nissan Alternator, Isuzu Alternator , Ford Alternator ,Hitach Alternator, Iskra Alternator , Lada Alternator ,Mitsubish Alternator,Sawafuji Alternator,Marelli Alternator,Caterpillar Alternator,Forklift Alternator, Hino Alternator ,Komatsu Alternator,Prestolite Alternator etc.


We are specialized in Car alternator and Starter Motor since 2000. Quality first, price second. Usually, our Car Alternator and Starter motor can match with each other smoothly in the same model Vehicle.
Our company boasts a high-quality management team from top to bottom for the purpose of an efficient operation system. We control every part and every working procedure strictly because we regard product quality as a basis of our corporate development. Based on the original ISO9001: 2000 International Quality Management System, all links of our production and management are strictly guided by the standard of ISO/TS16949

Wish can cooperate with you in the near futre.



TIPS:
What is a Car alternator?
Car alternators are the devices responsible for charging the battery and powering the electrical system while the engine runs; it`s often referred to as the hardest working part in the car. Car alternators have a voltage regulator that operates by modulating the small field current that produces a constant voltage to the stator output.

How to check an alternator?
How to Check an Alternator - Method 2 Monitoring Your Alternator
Check the alternator gauge.
Listen to the alternator while the engine is running.
Turn the radio on and rev the engine.
Find an Auto Parts store that tests alternators for free.

How long does an alternator last?
A new car alternator should last a minimum of two years. Well maintained it can last up to 8 or 9 years. As stated, the miles you put in is another factor. The alternator provides power for the electrical components.

Looking for ideal CAR ALTERNATOR 2541784B Manufacturer & supplier ? We have a wide selection at great prices to help you get creative. All the VALEO ALTERNATOR 2541785B are quality guaranteed. We are China Origin Factory of VALEO ALTERNATOR 2542256A. If you have any question, please feel free to contact us.
Product Categories : Auto Alternator > Valeo Alternator