Product Description
Mercedes Benz Power Steering Pump BENZ A200 460 3180
ZW NO.:ZW013-PO
OEM NO.:BENZ A200 460 3180
Ref NO.:ZF 7684 955 251
Nominal displace ment:21.0ml/r
Maximus Pressure:180bar
Highest rotational speed:500-3600r/min
Controlled flow rate:16.0L/min
Fuel feed hole:M26×1.5-6H
Fuel discharge hole:M16×1.5-6H
Direction of rotation:Right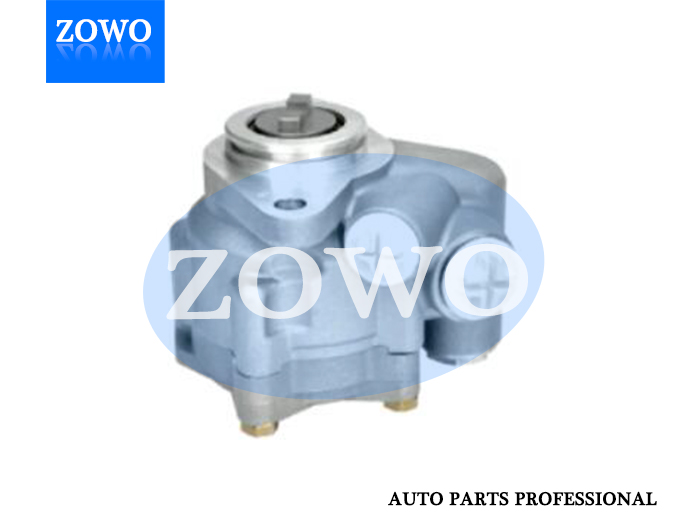 As one of the best China benz power steering pump manufacturers, NINGBO ZHONGWANG AUTO FITTINS CO.,LTD is skillful in heavy duty and agricultural vehicle construction, welcome to import benz power steering pump truck, passenger car and tractor from our factory.
Maintain steady pressure while steering with premium power steering pump. It keeps your car's power steering in top shape for better safety and drivability.
If your vehicle's power steering feature unexpectedly stops working, it might be because of steering pump failure. Your vehicle's power steering pump may be causing a loss or decrease in hydraulic pressure. To be sure, you should seek the assistance of an auto mechanic. When you ignore a problem concerning the power steering pump, you might find yourself struggling just to steer your vehicle.
Operated by the engine belt, the power steering pump uses hydraulic pressure to help you control your vehicle's movement more easily. This pump is equipped with a set of rotating vanes designed to draw hydraulic fluid from a return line. As you turn your vehicle's steering wheel, valves regulate the flow of hydraulic fluid from the steering pump to the steering axis. This process increases the steering axis' torque, in turn decreasing the effort needed to turn your vehicle's wheels.
Your vehicle's power steering pump usually contains a valve that relieves pressure build-up in case of high engine speeds. But of course, this valve is not enough to prevent steering pump failure. Buzzing or whining noises coming from under the hood are typical symptoms of a faulty steering pump. Once your mechanic diagnoses that you need to replace your vehicle's steering pump, don't look anywhere else. You can get the best power steering pump replacement here from us.
We still have more similar models:
0004666701, 7673955116, 3454660001, 7673955908, 0004667101, 7673955127, 7673955572, 7673955128, 8225000128, 0014603180, 0014605280, 542004810, 0014603080, 0024600880, 0024603980, 542004710, 0024608880, 0034604980, 542045310, 0014662701, 7673955554, 0014667001, 7673955125, 7673955913, 7673955933, 0014661801, 0014606080, 0024607680, 542003210, 0014607280, 0014606880, 0024606480, 542005010, 0014607080, 0014607180, 0024606580, 542005110, 0014608480, 7684955913, 0014604480, 7684955139, 7684955903, 0024601380, 0014603080, 0014664301, 7684955198, 7684955921, 0014602880, 7685955134, 7684955121, 0024607580, 7684955190, 0014661301, 7673955534 etc.
Except Power Steering Pump, also work on Starter Motor, Car Alternator, Water Pump, AUTO CARBURETOR, CLUTCH PARTS, ENGINE PARTS etc.



Looking for ideal POWER STEERING PUMP A2004603180 Manufacturer & supplier ? We have a wide selection at great prices to help you get creative. All the POWER STEERING PUMP 7684955251 are quality guaranteed. We are China Origin Factory of Honda Accord Power Steering Pump. If you have any question, please feel free to contact us.
Product Categories : Power Steering Pump