Product Description
Mitsubishi Replacement M8T70371, M8T75171 Starter Motor
12V Starter Motor For Toro Industrial Mowers Model 580D (M8T75171)

The starter motor are fits on CLARK FORKLIFT etc. ENGINE NO.S4S 4DQ 4DQE 4DN DP60 CDP30


100% NEW
Quality Identification: ISO/TS16949
We can Engrave meeting to your demand
Packing: Pallet
Minimum Order: 1-100PCS
Delivery date is 1-45 days after confirming the order.


If you have the demand, please contact with us.
We can supply the best competition with the best price.


SPECIFICATION:
ZOWO NO.
ZWMT190-ST

TYPE

Mitsubishi Starter ASSEMBLY

WAI NO.


OEM NO.
LUCAS LRS02218
LUCAS LRS2218
MITSUBISHI 32A6610100
MITSUBISHI 32A6610101
MITSUBISHI 32A6610600
MITSUBISHI 32A6620601
MITSUBISHI M008T70371
MITSUBISHI M008T75171
MITSUBISHI M8T70371
MITSUBISHI M8T75171

DESCRIPTION
12V,2.2KW,10T,CW

APPLICATION
Clark Industrial Mitsubishi Forklift

WARRANTY
12 MONTHS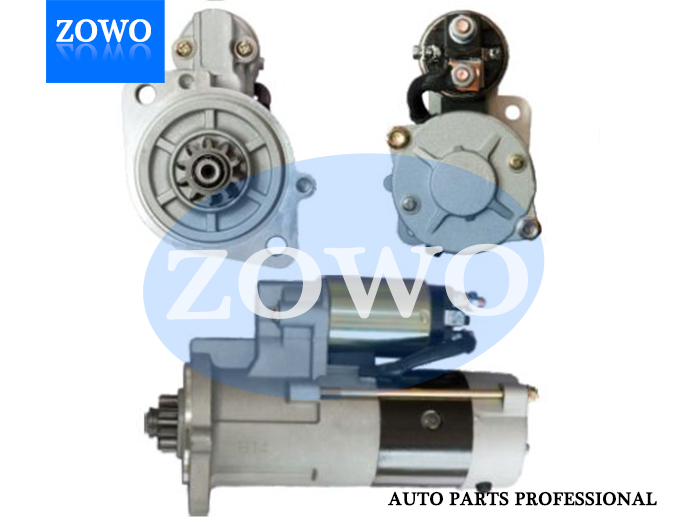 If you have any enquiry about quotation or cooperation, please feel free to email us at zwautoparts at vip.163.com or use the following enquiry form. Our sales representative will contact you within 24 hours. Thank you for your interest in our products.
TIPS:
What is an Auto Starter Motor?
An AUTO STARTER motor is a device that is capable of turning over an internal combustion engine until the process of combustion takes over. This is typically accomplished by providing the necessary mechanical energy to rotate the crankshaft for a given number of cycles. While the Auto Starter motor is rotating the crankshaft, the engine begins the process of combustion. The auto starter is then able to disengage once the engine is running under its own power. Most auto starter motors are electric, but some applications use pneumatic or hydraulic power.
How Does an auto Starter Motor Work?
Internal combustion engines are typically incapable of [self starting," which means they require some external force to start running. This is typically accomplished by using some method to turn the crankshaft until the process of combustion can take over. The single most common example is an electric starter motor that engages with a toothed flywheel or flex plate.

In gasoline engine applications that use an electric auto starter, the operation of the auto starter motor is relatively simple. When the ignition is activated (either via a key or a button), power is delivered to an electric auto starter motor. That causes the a small gear to extend and mesh with the teeth of a ring gear that is fixed to either a flywheel or flex plate. This flywheel or flex plate is bolted to the crankshaft of the engine, which allows the starter motor to turn the engine over.

Once the engine is turning over, the process of internal combustion begins. Fuel and air are injected into the engine, and they are ignited by spark plugs. That allows the engine to start rotating under its own power, which causes it to start rotating faster.
Pneumatic and Hydraulic Starters
Some diesel applications use pneumatic or hydraulic auto starter motors. These auto starter operates the same way that electric auto starter motors do, but they are powered by either compressed air or hydraulic pressure. Unlike electric starters, these auto starter motors don`t require a battery to operate. Pneumatic auto starter are operated by stored compressed air from a tank that is charged when the engine is running, and hydraulic starters can sometimes be manually charged.
Auto Starter Motor Failure
When your auto starter motor fails, it becomes impossible to start your engine. However, there are a lot of other problems that can result in a no-start situation. If the engine cranks slowly, it could be be an auto starter motor that is drawing too much amperage, but it could also be a bad battery or even wiring. Other common auto starter motor problems are related to the solenoid, which can be either built into the auto starter or located remotely, and the auto starter motor relay. In any case, the diagnostic procedure typically involves checking to see if the solenoid and relay are receiving power and whether they are operating properly.

Auto Starter motors can also fail mechanically, which typically results in the Bendix Drive or sprague clutch system failing to engage. In that case, a rebuild or replacement is typically the only solution. Of course, an auto starter motor can also fail to operate properly if the teeth on the drive gear or the ring gear are damaged. This type of damage can be the result of attempting to start an engine that is already running, an auto starter motor that doesn`t retract its gear properly, or a handful of other issues. In cases where an auto starter motor fails to work due to broken or missing teeth on the ring gear, the engine or transmission typically has to be removed in order to replace the flywheel or flex plate.
Looking for ideal Starter Noise During Cranking M8T75171 Manufacturer & supplier ? We have a wide selection at great prices to help you get creative. All the AUTO STARTER 32A6620601 32A6610600 are quality guaranteed. We are China Origin Factory of MITSUBISHI STARTER M008T70371. If you have any question, please feel free to contact us.
Product Categories : Auto Starter > Mitsubishi Starter