Product Description
Starter Motor For Perkins LETRIKA (ISKRA) IS1202 7169479 11131640
We company has vehicle starter motor,Car Starter motor, Truck Starter Motor, Heavy duty starter motor, forklift starter motor, agriculture starter motor and so on, these engine starter motors are produced with best materials, High quality Materials,and high quality starter motor can be made. Now we has passed TS16949/ISO9001 certification. You can rest assured enough to buy.
SPECIFICATION:
ZOWO NO.
ZWIS018-ST

TYPE

Iskra Starter MOTOR ASSEMBLY

WAI NO.


OEM NO.

BOBCAT 7169479

LETRIKA (ISKRA) 11131640

LETRIKA (ISKRA) 11131763

LETRIKA (ISKRA) 11131784

LETRIKA (ISKRA) 11131792

LETRIKA (ISKRA) 11131900

LETRIKA (ISKRA) 11132008

LETRIKA (ISKRA) AZF4164

LETRIKA (ISKRA) AZF4196

LETRIKA (ISKRA) AZF4206

LETRIKA (ISKRA) AZF4208

LETRIKA (ISKRA) AZF4248

LETRIKA (ISKRA) AZF4269

MAHLE 72736031

MAHLE MS403

PERKINS 2873K604

PERKINS 2873K605

PERKINS 2873K606

PERKINS 2873K635

DESCRIPTION
APPLICATION
PERKINS

WARRANTY
12 MONTHS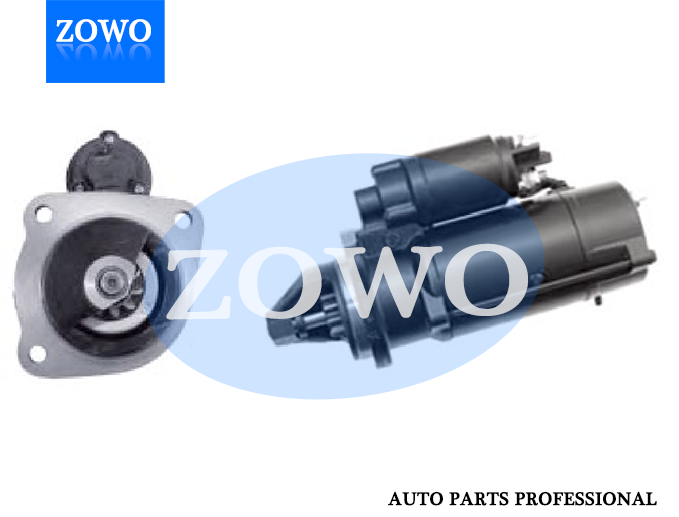 Our advantage:
1) Original material standard according to the original OEM technical drawing
2) Premium quality standard guaranteed
3) Free sample possible acceptable
4) Long lasting and reliable working life time
5) Positive customer feedback from abroad and domestic market
6) Long exporting history to Europe, Middle East, and SOUTH Asia
7) Competitive and reasonable price level
8) Able to develop & produce according to your specification with technical drawing
9) Unique colour Packing or packing according to customer specification requirement
10) Flexible and convenient logistic service in China & Europe
11) Our own branch with Distributing Stock In Europe, America.
12) Multi-language communication in English,Spanish, Russian, German, English, French
13) Providing product Guarantee Period
14) R&D development capacity provided by experts and technician
15) We are doing Safe & Fair business

We persist in taking the market as the guidance, the prodoct development as the power, the quality as the center, continuing stably to provide the high quality product for the customer.
Ningbo zhongwang Auto Parts co.,ltd is an enterprise specialized in manufacturing and exporting auto parts professionally.We have devoted ourselves to manufacturing and developing auto parts with excellent quality for many years.
Our products are mainly exported to Europe,the USA,Asia and Africa.
We have set up good relationship with our customers and earned a good reputation. Our auto parts include spare parts for electricity and electronic
system,brake system,body accessory ,fuel-system,crank mechanism,engine system,and lubrication system,which are applicable to TOYOTA,HONDA,NISSAN,LADA,SUZUKI,IVECO,VOLKS WAGEN,BMW,VOLVO,AUDI,PASSAT,BORA,BUICK,CITROEN,DAEWOO,MITSUBISHI,PEUGEOT,ISUZU AND MAZDA.
We sincerely hope to cooperate with customers at home & abroad to pursue high technology and quality.


TIPS
An AUTO STARTER motor is an electric motor that turns over or "cranks" the engine to start it. It consists of a powerful DC (Direct Current) electric motor and the Auto Starter motor solenoid that is attached to the motor (see the picture). In most cars, an Auto Starter Motor is attached to the transmission
The auto starter motor is powered by the car battery. To turn over the engine the auto starter motor requires a very high electric current, which means the battery has to have sufficient power. If the battery is discharged, the lights in a car might come on, but it won't be enough power (current) to turn over the starter motor.
What are the symptoms of a bad auto starter motor: With the fully charged battery, when starting a car, nothing happens or there is a single click, but the auto starter motor doesn't run, even though there is a 12-Volt power at the auto starter control terminal.
Another symptom is when the auto starter motor runs, but fails to turn over the engine. Often, this might cause a loud screeching noise when starting the car. Of course, this could also be caused by damaged teeth on the ring gear of the flex plate or flywheel.


How Does an Auto Starter Motor Work?
When you turn the key in your car`s ignition, the engine turns over and then cranks. However, getting it to crank is actually much more involved than you might think. It requires a flow of air into the engine, which can only be achieved by creating suction (the engine does this when it turns over). If your engine isn`t turning, there`s no air. No air means that fuel can`t combust. The starter motor is responsible for turning the engine over during ignition and allowing everything else to happen.
How your Auto starter motor works?
Your auto starter motor is really an electric motor. It engages when you turn the ignition to [run" and turns the engine over allowing it to suck in air. On the engine, a flexplate or flywheel, with a ring gear around the edge, is attached to the end of the crankshaft. On the auto starter motor, there`s a gear designed to fit into the grooves of the ring gear (the auto starter motor gear is called a pinion gear).

When you turn the ignition switch, the auto starter motor is energized, and the electromagnet inside the body engages. This pushes out a rod to which the pinion gear is attached. The gear meets the flywheel, and the auto starter motor turns. This spins the engine over, sucking in air (as well as fuel). At the same time, electricity is sent through the spark plug wires to the plugs, igniting the fuel in the combustion chamber.

As the engine turns over, the auto starter disengages, and the electromagnet stops. The rod retracts into the starter once more, taking the pinion gear out of contact with the flywheel and preventing damage. If the pinion gear remained in contact with the flywheel, it`s possible that the engine would spin the auto starter too fast, causing damage to it.
Looking for ideal Motor De Arranque 2873K604 11131763 Manufacturer & supplier ? We have a wide selection at great prices to help you get creative. All the Motor De Partida AZF4164 11131784 AZF4248 are quality guaranteed. We are China Origin Factory of Iskra Starter Motor 11131640 AZF4164. If you have any question, please feel free to contact us.
Product Categories : Auto Starter > Iskra Starter